Bar-B-Q Cuisine: 3 Restaurants Found
Address: 5009 E. Washington St., Phoenix, AZ 85034 (
Map
) - Tel:(602) 273-7378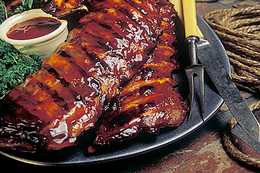 Keeping up with traditions, but still giving room for new culinary trends, Stockyards Steakhouse embraces what they pinpoint as "New West Cuisine." Combining traditional Steakhouse fare, Southwestern dishes and American cuisine, Stockyards selections of premium corn-fed aged steaks and prime rib are nothing short of high-quality fine dining. Opened in 1947, this favorite Arizona restaurant is known for their "Best of the West" dishes, excellent service and antique bar.
Address: 8383 S. 48th St., Phoenix, AZ 85044 (
Map
) - Tel:(602) 431-6474
A western-themed attraction and restaurant all in one can be found at Rustler's Rooste, a kid-friendly, novelty steakhouse and brewery straight out of the Wild Wild West. Opened in 1971, Rustler's Rooste is Arizona's Legendary Cowboy Steakhouse, complete with 2 stories, live country music and a general store. They serve only the finest, choice-cut steaks as well as ribs, chicken, and seafood. With a large food and drink menu, this "beef and brew with a view" was named "Best Special-Occasion Restaurant" and "Best Kid-Friendly Restaurant" by Phoenix Magazine. Open every day from 5PM-10PM.
Address: 6300 N. Scottsdale Rd., Scottsdale, AZ 85253 (
Map
) - Tel:(480) 609-8866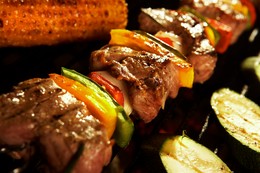 Authentic Brazilian churrascaria barbeque meets chic and contemporary décor at Fogo De Chao, in Scottsdale. This fulfillingly festive steakhouse presents guests with the awesome opportunity to not only see their prime-cut meats and other specialties cooked table-side, but also savor as much of it as they like. Like a speedway of culinary delight, your signal of the green sign on the table instructs the dishes to begin coming – and they don't stop coming until you signal 'red.' Accompanying their delectable spread of 15 different meat options is a similarly impressive gourmet salad bar. And don't forget to wash it all down with a true-to-form Brazilian cocktail.