Cave Creek: 4 Restaurants Found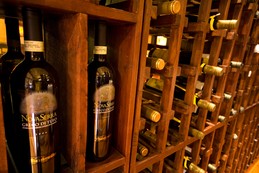 Vino 100 is so much more than a wine store – you might consider it to be a wine haven of sorts, where the drink of the gods flows in bounties, and where those in-the-know go to savor a quality tasting experience. Vino 100 has an extensive selection of varietals and complimentary tastings, and they also offer a variety of craft beers and premium hand-rolled cigars. To complement their prized collection of wine, Vino 100 hosts unique dinners monthly to introduce guests to the delectable creations of Chef Stuart Epstein. Raise a glass to Vino 100 for always keeping the glass half full!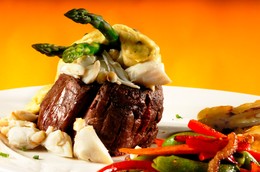 Describing their fare as "classically influenced American cuisine," Kevin and Amy Binkley are the dynamic duo behind the success of their namesake restaurant. Mr. Binkley doubles as the active chef and owner/operator, and Amy keeps the food machine running by managing the finer details of the operation. The fruit of this husband/wife team's labors is a fine marriage of casual and elegant cuisine that is served with love. Dishes like the Whole Roasted Partridge and the Italian Sausage Stuffed Squash Blossoms warm diners from the inside out and keep them coming back again and again.
Address: 6710 E. Cave Creek Rd, Cave Creek, AZ 85331 (
Map
) - Tel:(480) 488-8031
Cartwright's Sonoran Ranch House presents eclectic Southwestern cuisine featuring steak, game, and seafood. The fresh seafood is offered with the choice of Asian, European, Southwestern, and Mediterranean preparations. The steak and game options are mesquite wood fired and come with a choice of sides, sauces, and starch. The restaurant also has ranch-style entrees like an Apple Chipotle BBQ Chicken Breast with spinach, crispy garlic, and caramelized onion home fries. The décor is inspired by the Old West and has an earthy feel to it. Guests can dine in the Wine Room or in the Main Dining Room by the fireplace. From the outdoor patio, guests can take in gorgeous desert views of Saguaro Hill.
Address: 5736 E. Rancho Mañana Blvd., Cave Creek, AZ 85331 (
Map
) - Tel:(480) 488-0698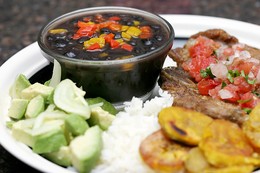 Tonto Bar and Grill captures the true essence of the Southwest dining experience. The Fireplace Room looks like a living room out of an old western movie, and the main dining room is decorated in an Old West fashion. This restaurant uses fresh ingredients and their salad dressings, soups, sauces, breads, and desserts are prepared daily. The menu is full of "New American" cuisine options with a southwestern style. Fish, meat, pasta, and vegetarian dishes provide a large range of entrees to choose from. Tonto's also provides all-natural meats for the majority of their meat entrees. The Sonoran Cowboy Plate is made of "all natural" mesquite wood grilled chili lime pork chop, ancho chili, braised nopalitos, mashed ranchero beans with queso fresco, and escabeche vegetable slaw.