20 restaurants found where star rating is "4" Stars
Address: 5350 E. Marriott Dr., Phoenix, AZ 85054 (
Map
) - Tel:(480) 293-3939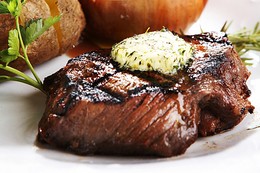 Meritage Steakhouse is an upscale restaurant geared for sports fanatics with flat screens tuned into the latest sporting events. Although this steakhouse appeals to sports enthusiasts, non sport enthusiasts can enjoy the atmosphere as well. Guests have the choice of outdoor seating on the fire pit or sunset patio. Meritage provides a hearty menu with prime steaks, chicken, and seafood. The menu offers the chef's signature cuts which includes the Petite Filet 3 Ways and the Serrano Wrapped Beef Tenderloin. Diners can sample wines from the steakhouse's fine wine cellar or choose half or full bottle options. From the restaurant, guests have a view of the resort's golf course green fairways.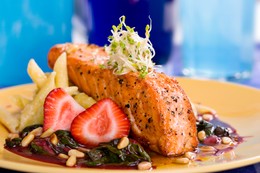 The five senses are held captive by the memorial dining experience this restaurant hopes to plate daily. The stunning mountain views and stylishly refined décor of the dining space entice the eyes, while the sense of taste and smell are entertained by Executive Chef Beau MacMillan's American cuisine menu. Guests of the Sanctuary Camelback Mountain Resort and Spa, and visitors exclusively to this fine dining spot, may savor flavors of the season all day. Sunday Brunch selections include the Lemon Ricotta Pancakes and the Old Fashioned Irish Oatmeal. Dinner guests may revel in the backdrop of an awe-inspiring sunset while feasting on the Fire-Roasted Oysters or the Bacon Wrapped Fillet of Beef.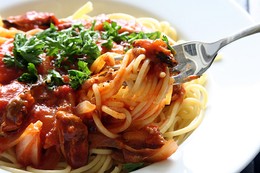 Be seated among authentic Tuscan country brickwork columns and gaze at original artwork by Aldo Luongo, as you are skillfully and eloquently served genuine regional Italian cuisine. Tomaso's has been indulging its guests for over 30 years and that experience shines through in the food as well as the service. With our ever-changing tastes, it is not often that a restaurant excels for 30 plus years, but Tomaso's has remained steadfast in their commitment to serve fine Italian cuisine and they have been rewarded for their efforts. Along with a James Beard Award, Tomaso's has been given 4.7 out of 5 stars from Fodor's.
Address: 2631 N. Central Ave., Phoenix, AZ 85004 (
Map
) - Tel:(602) 241-8995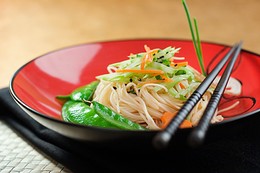 As the cooling mist falls from the Wild Thaiger's expansive covered patio, one may feel as though he or she has found a true tropical oasis in the heart of Phoenix. This authentic Thai cuisine restaurant hopes to please every palate with its relaxing décor and made-to-order menu. Fans of fiery fare will revel in dishes that highlight the heat of the Thai chili, while more sensitive mouths will appreciate that they may order on the conservative side of spice. And vegetarians delight – tofu and veggie substitutions are offered in many dishes.
Address: 3815 N. Brown Ave., Scottsdale, AZ 85253 (
Map
) - Tel:(480) 636-5005
The Mission Restaurant and Lounge has a lot to offer diners, whether it be morning, evening, or late night, and it is all available in one place. The restaurant's brunch, lunch, dinner, and off-hours menus are each comprised of signature dishes, displaying a wide array of Modern Latin Cuisine at any time of day. Adding to the sophisticated, yet casual atmosphere, The Mission's full Tequila Bar provides a premium collection of liquor, beer, signature hand-pressed cocktails and an extensive wine list. Whether you're heading out for a family brunch, drinks with friends, an intimate dinner, or a late-night dessert, The Mission has a menu that will suit the occasion.