Fine Dining: 83 Restaurants Found
Address: 3101 E. Camelback Road, Phoenix, AZ 85016 (
Map
) - Tel:(602) 955-3666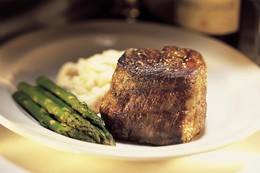 Donovan's Steak and Chop House is a little piece of steak paradise, an homage, really, to the long tradition of steakhouses so popular in America since the early 20th century. But Donovan's is no throwback. At their handsome location at 3101 E. Camelback Road in the upscale Camelback Corridor, owners Dennis Hitzman, Tony Subia, and Mal Jozoff have created a clubby atmosphere of casual elegance with no fine-dining detail overlooked. The centerpiece of their award winning operation is the exclusive use of USDA Prime, Midwestern, corn-fed beef, which, combined with an international wine list, accommodating staff, and exclusive amenities, makes this a steak lover's paradise.
Address: 809 W. Main Street, Mesa, AZ 85201 (
Map
) - Tel:(480) 962-4652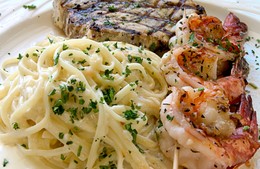 Seeped in history, the Landmark restaurant is truly a Phoenix landmark. Located in a building that served as a church, a college, and offices for an insurance company, the Landmark Restaurant is a little slice of Phoenix's past. But don't come here just for a history lesson. The menu is filled with succulent steaks, delicate seafood, and classic comfort food such as Beef Stroganoff, Stuffed Meatloaf, and Grilled Ham. A dining experience at the Landmark is not complete without the "salad room"—an entire room converted to a salad bar, featuring both traditional and eclectic, hearty and healthy, and hot and cold "salad" fare. Entrance to the room is included with any entrée and is also available separately—one trip could easily be as a meal in itself.
Address: 6991 E. Camelback Rd., Scottsdale, AZ 85251 (
Map
) - Tel:(480) 941-4700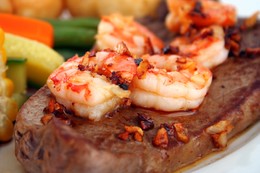 Mastro's City Hall Steakhouse is a classic in the very best tradition of American fine dining. The elegant and fashionable décor comes together seamlessly, with beautiful etched glass and polished wood, custom light fixtures, and white linen tablecloths. The menu, while traditional in its emphasis on prime beef and chops, is enhanced with many contemporary twists, such as inventive sides like lobster mashed potatoes and gorgonzola mac and cheese. Located near downtown Scottsdale, Mastros provides an ideal destination for both casually chic and special occasion dining.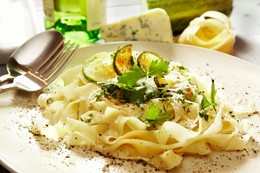 Sassi offers southern Italian fare at its best. The unique setting is reminiscent of a villa situated off the Tuscan coast of Italy. With multiple warmly decorated dining rooms, private rooms, and an ornate outdoor al fresco dining area, it offers a wonderful setting for a meal, party, wedding, or any gathering of up to 150 guests. The quality menu offerings, coupled with the extensive list of fine Italian wines, are sure to please even the most fickle Italian food connoisseur.
Address: 11111 N. 7th St., Phoenix, AZ 85020 (
Map
) - Tel:(602) 866-6350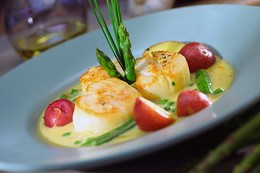 Nestled amid the Pointe Hilton Tapatio Cliffs Resort, Different Point of View offers a stunning setting and even more stunning views. The cuisine is creative and inventive, thanks to Executive Chef Ivan Flowers's mixture of American and International flavors. The dinner menu changes seasonally, while a nightly tasting menu changes several times a night. The menu is partially sourced from the restaurant's own vegetable garden located on the hotel property. If the food and views weren't enough, an award-winning wine list offers over 1000 wines, all cellared on premise. This is a place to treat yourself, and to celebrate the grandest of occasions.