Nellie Cashman's Monday Club
Nellie Cashman's Monday Club

Make a Reservation
Nellie Cashman's Monday Club, named for Arizona's oldest club for women, is a star within the Westin Kierland Resort and Spa. With an open-style kitchen, Executive Chef Jason Christie creates flavorful, healthy dishes. From gourmet salads boasting local organic ingredients to the nostalgic dinner entrees such as Roasted Half Chicken Provencal with fingerling potatoes, Nellie Cashman's Monday Club offers a wide variety of options for its diners. The outdoor patios offer an incredible view of the McDowell Mountains, which complement the delicious cuisine. Situated in one of Arizona's most luxurious spas, this eatery is ideal for a quick bite before a spa appointment and for an elegant dinner to conclude the evening.
---
---
Photos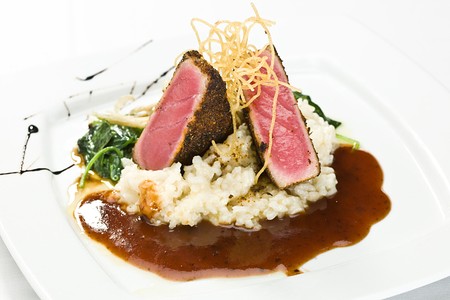 ---
Restaurant Info
Address:

6902 E. Greenway Pkwy.,

Scottsdale

AZ

85254

Cross Street: North Kierland Boulevard
Category: Casual Dining
Reservations: Recommended
Parking: Private Lot |
Payment Options: VISA | Amex | MasterCard |
Corkage Fee: N/A
Website: http://www.kierlandresort.com/golf_spa/nellie_main/index.html
Phone: (480) 624-1202
Business Hours
Monday

| All Day 6 a.m. - 9 p.m.

Tuesday

| All Day 6 a.m. - 9 p.m.

Wednesday

| All Day 6 a.m. - 9 p.m.

Thursday

| All Day 6 a.m. - 9 p.m.

Friday

| All Day 6 a.m. - 9 p.m.

Saturday

| All Day 6 a.m. - 9 p.m.

Sunday

| All Day 6 a.m. - 9 p.m.
Features
Hotel Dining
Sunday Brunch
Outdoor Seating
Wheelchair Access
Healthy Options
Occasion
Dining Alone
People Watching
Quiet Conversation
---
F.A.Q. - Frequently Asked Questions
---
Map
Restaurant Address:
6902 E. Greenway Pkwy.,
Scottsdale
AZ
85254
---
User Reviews
Nellie Cashman's Monday Club