Romantic Dining: 65 Restaurants Found
Address: 3101 E. Camelback Road, Phoenix, AZ 85016 (
Map
) - Tel:(602) 955-3666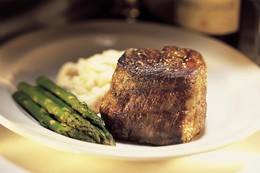 Donovan's Steak and Chop House is a little piece of steak paradise, an homage, really, to the long tradition of steakhouses so popular in America since the early 20th century. But Donovan's is no throwback. At their handsome location at 3101 E. Camelback Road in the upscale Camelback Corridor, owners Dennis Hitzman, Tony Subia, and Mal Jozoff have created a clubby atmosphere of casual elegance with no fine-dining detail overlooked. The centerpiece of their award winning operation is the exclusive use of USDA Prime, Midwestern, corn-fed beef, which, combined with an international wine list, accommodating staff, and exclusive amenities, makes this a steak lover's paradise.
Address: 6991 E. Camelback Rd., Scottsdale, AZ 85251 (
Map
) - Tel:(480) 941-4700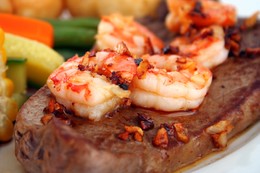 Mastro's City Hall Steakhouse is a classic in the very best tradition of American fine dining. The elegant and fashionable décor comes together seamlessly, with beautiful etched glass and polished wood, custom light fixtures, and white linen tablecloths. The menu, while traditional in its emphasis on prime beef and chops, is enhanced with many contemporary twists, such as inventive sides like lobster mashed potatoes and gorgonzola mac and cheese. Located near downtown Scottsdale, Mastros provides an ideal destination for both casually chic and special occasion dining.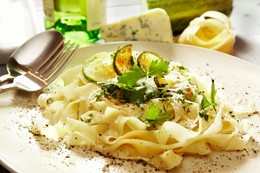 Sassi offers southern Italian fare at its best. The unique setting is reminiscent of a villa situated off the Tuscan coast of Italy. With multiple warmly decorated dining rooms, private rooms, and an ornate outdoor al fresco dining area, it offers a wonderful setting for a meal, party, wedding, or any gathering of up to 150 guests. The quality menu offerings, coupled with the extensive list of fine Italian wines, are sure to please even the most fickle Italian food connoisseur.
Address: 4327 N. Scottsdale Rd., Scottsdale, AZ 85251 (
Map
) - Tel:(480) 481-7614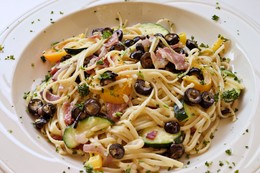 Bravo! Bistro offers a local neighborhood feel even though it is located in the heart of busy Scottsdale. The friendly atmosphere provides a great place to take a date, to celebrate a special occasion, or even to come regularly. The menu offers a wide variety of dishes, made from scratch using fine quality ingredients. Their dishes are unique with different mixes of spices. The food is fresh and flavorful. The service is attentive and the staff friendly. This restaurant is a must visit.
Address: 5816 N. 16th St., Phoenix, AZ 85106 (
Map
) - Tel:(602) 266-3001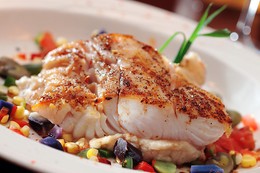 Tucked into the short side of an L-shaped shopping center at 16th Street and Bethany Home is a restaurant that has been pleasing palates and offering short tutorials in Phoenix history and heritage since 1997: the Phoenix City Grille. The warm, cozy ambience is enhanced by framed, well-lit color and black-and-white photos of Arizona landscapes and Phoenix movers and shakers. Diners enjoy a varied American menu with just enough hints of Southwestern and Southern cuisine to keep it interesting and memorable.
Address: 6106 S. 32nd St., Phoenix, AZ 85042 (
Map
) - Tel:(602) 276-0601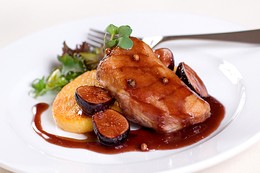 Escape the urban sprawl of Phoenix with a visit to Quiessence on "the Farm" at South Mountain. This quaint culinary retreat offers pastoral serenity in the heart of the city. Explore this verdant agricultural oasis, before cozying up by the fireplace in Quiessence's historic farmhouse. The menu changes seasonally to feature the freshest local Arizona foods, including those grown onsite. Quiessence serves Contemporary American Farm Cuisine with a conscience, choosing US suppliers with ethical environmental and humane practices. Whether savoring a romantic dinner or socializing at a special event, a trip to the Farm is sure to be an adventure.
Address: 6000 E. Camelback Rd., Scottsdale, AZ 85251 (
Map
) - Tel:(480) 214-8000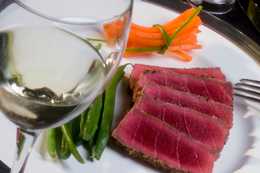 Located in the luxurious relaxation haven, The Phoenician Resort, J&G Steakhouse exceeds expectations with class, glamour and breathtaking views. Weather visiting for business or leisure, J&G Steakhouse offers guests a sophisticated setting to wine, dine, drink and enjoy the beautiful natural surroundings. Wide open windows give guests a gorgeous backdrop, while the interior is equally impressive; sprinkled with stunning sparkling chandeliers, sheer curtains, richly dark tables and walls, and an overall lavish ambiance. Escape the ordinary and enjoy an extraordinary meal in an unforgettable setting at J&G Steakhouse.
Address: 8900 E. Pinnacle Peak Rd., Scottsdale, AZ 85255 (
Map
) - Tel:(480) 473-2884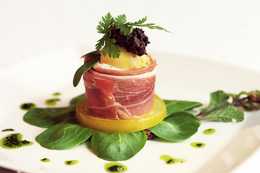 After a recent re-model of the interior, menu, and management, Bistro Provence has unveiled a whole new outlook and style to this French restaurant. While French dining has the stereotype of being stuffy and uptight, Bistro Provence provides an ambiance that is both cozy and romantic. As for the food, Bistro Provence offers very extensive options for lunch and dinner, each fit with both traditional French dishes, such as Coq Au Vin and Bouillabaisse De Provence, as well as more contemporary twists on classic cuisine. Prepare yourself for a sophisticated but delectable dining experience.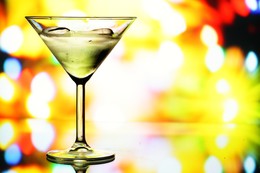 Passionate about wine? Phoenix's D.VINE bistro and wine bar certainly is. They firmly believe in showcasing their incredible passion for fine wine, eclectic cuisine, and outstanding service. This trendy wine bar has 2 locations and serves over 40 wines by the glass and even more by the bottle. D.VINE'S cuisine has a European flare with an Italian emphasis. Their food is fresh, innovative, and new. D.VINE also hosts performances by local musicians and has extended their happy hours to 4 and 5 hour blocks. Their décor is chic and modern and their staff is extremely knowledgeable about the wines available. In addition, D.vine rotates their wine selection rather frequently, but also encourages guests to bring in suggestions regarding the acquisition of labels they love. Phoenix's D.VINE strives to make the wine tasting experience fun, friendly, and of course just divine.